**Congrats Eagles on making the Super Bowl! If looking for a great tailgate option, check out our event HERE at State Farm Stadium**
The Philadelphia Eagles are one of the NFL's signature franchises, only a handful of years removed from their first Super Bowl championship.
You're probably aware that Eagles fans are known for being especially… oh, let's say, ardent. And that makes tailgating at Lincoln Financial Field a necessary experience for anyone who wants to understand what makes football great.
In this guide, we'll give you inside information on the Philadelphia Eagles experience, and the best tailgating at Lincoln Financial Field.
2022 Schedule (all game times listed for teams respective time zone) 
Sept. 11 – @ Detroit Lions 1:00pm ET
Sept. 19 – Minnesota Vikings 8:30pm ET
Sept. 25 – @ Washington Commanders 1:00pm ET
Oct. 2 – Jacksonville Jaguars 1:00pm ET
Oct. 9 – @ Arizona Cardinals 4:25pm ET
Oct. 16 – Dallas Cowboys 8:20pm ET
Week 7 – BYE
Oct. 30 – Pittsburgh Steelers 1:00pm ET
Nov. 3 – @ Houston Texans 8:15pm ET
Nov. 14 – Washington Commanders 8:15pm ET
Nov. 20 – @ Indianapolis Colts 1:00pm ET
Nov. 27 – Green Bay Packers 8:20pm ET
Dec. 4 – Tennessee Titans 1:00pm ET
Dec. 11 – @ New York Giants 1:00pm ET
Dec. 18 – @ Chicago Bears 1:00pm ET
Dec. 24 – @ Dallas Cowboys 4:25pm ET
Jan. 1 – New Orleans Saints 1:00pm ET
Week 18 – New York Giants TBD
Getting Tickets
The Eagles' online ticket office has single-game tickets, the NFL Ticket Exchange, and information about season tickets (we understand the waiting list is very long, however). Lincoln Financial Field fills up extremely quickly, so get tickets as soon as you can.
Travel, Accommodations, and Transportation
Philadelphia's a very accessible urban area with a lot of transportation options and places to stay. Here are recommendations for both.
Traveling to Philadelphia
Driving: Lincoln Financial Field is just off the Delaware Expressway (Interstate 95). Interstate 76 and Pennsylvania Route 291 also go through town.
Air Travel: Philadelphia International Airport (PHL) serves nonstop flights from 134 cities across the world, covering most, if not all major U.S. cities. The next closest major airport is Newark Liberty International Airport (EWR) in New Jersey.
Rail: 30th Street Station, about a 6-mile drive from Lincoln Financial Field, serves a lot of passenger and commuter trains from Amtrak, SEPTA, and NJ Transit. You can take the subway from there to South Philly.
Nearby Hotels and Accommodations

The two hotels nearest the stadium are Live! Casino/Hotel and a Courtyard. You'll find many options just a few subway stops north near Center City: Alexander Inn, DoubleTree, Inn on Camac, Hyatt, Warwick Rittenhouse Square, Element, The Ritz-Carlton, and Canopy by Hilton are just a few.
For more options, check out TripAdvisor's recommendations for Philadelphia hotels.
If you plan to host your own tailgate, downtown Philadelphia hotels may not be your best bet. Check into a VRBO reservation in a nearby residential neighborhood, as it will likely be able to accommodate your rig and equipment.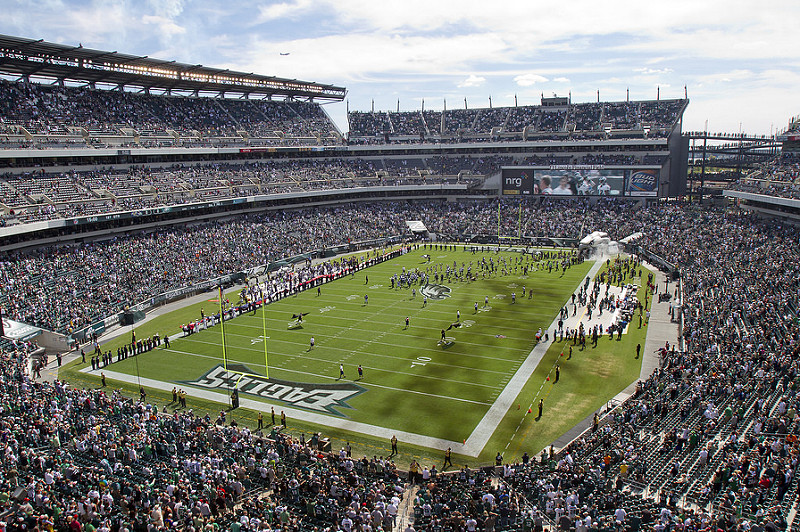 Getting to Lincoln Financial Field
SEPTA's Broad Street Line goes all the way to the stadium. You can easily transfer to the line from all other Philadelphia subway and train routes. Use SEPTA's trip planner if you need to.
How to Tailgate at Lincoln Financial Field
Tailgating at Lincoln Financial Field is almost as vital an Eagles tradition as taunting Cowboys and Giants fans. Here are some tips on how to enjoy (or survive) it.
Tailgating at Lincoln Financial Field: Parking
Parking can be the toughest part of a good tailgate. Here are the spots you won't want to miss!
Cars
Lincoln Financial Field is that rare urban stadium that has ample parking. The lots immediately surrounding the field are reserved parking only, but all of the rest are open to the general public. Daily passes cost $40. The city recommends using Maxim Tickets to score a pass in advance.
All of the lots on the stadium property permit (and encourage) tailgating, but note that it's not allowed in the "red" lots across Broad Street around Citizens Bank Park. See the parking map for more info.
RVs
RV parking at Eagles games works exactly like car parking, just more expensive. RVs can park anywhere they fit for $80. However, overnight parking isn't allowed — find a local RV campground in a nearby area if that's what you need.
Where to Tailgate at Lincoln Financial Field
Want to know where to go on game day? Check out these spots:
Parking Lots
Throw a dart at the Lincoln Financial Field parking map (west of Broad Street, that is) and you'll land on a great tailgate spot. Eagles tailgating is a tradition going back decades, and the fans are, shall we say, openly demonstrative about their alliance with the team.
You'll find truly excellent food, including Italian sausages, hoagies, soft pretzels, and utterly unbeatable Tastykakes. Lots open five or six hours before kickoff.
Jetro Lot
Diehard Eagles tailgaters seem to favor the parking lot at the Jetro Cash & Carry store, across the street from the Line. It's not overseen by the stadium so there are more opportunities for adult-oriented (but legal) behavior.
Wells Fargo Center Lot
This is the parking spot for the arena where the 76ers play beneath the cover of an off-ramp. The Wells Fargo Lot has a section unsubtly called "Beer, Wine, and Spirits." That's where you can tailgate, but get there very early — it opens at 8 a.m. on Sunday day games and fills up quickly.
FDR Park
One of the "prettiest" Eagles tailgates happens in the park directly across from all of the Philadelphia sports complexes. That's to say, it did happen before FDR Park canceled tailgating last year because of the COVID crisis.
We haven't heard whether it will be open again for 2021, but if it is, it's a family-friendly tailgating option away from stadium grounds.
Xfinity Live!
This is the massive entertainment complex that serves as the game-day center for Eagles, Phillies, and Sixers games. You'll find multiple bars, restaurants, and big-screen TVs under one roof. It's perfect for tailgaters who don't want to work hard. Look for the statue of Smokin' Joe Frazier.
Nearby Drinks, Food, and Attractions
The cradle of American democracy obviously has a lot of important historical sites and tourist attractions, not to mention lots of great restaurants and bars. Here are a few.
Bars Near Lincoln Financial Field
For an authentic Philadelphia experience, check out Philadium, Fireside Tavern, SouthHouse, Lucky 13 Pub, and "proud partner of the Philadelphia Eagles" Chickie's & Pete's.
Check out Google Maps' recommendations for bars around Lincoln Financial Field.
Restaurants Near Lincoln Financial Field
Philadelphia's got all of the cuisine options any decent major Atlantic metropolis should have. Here are some of our recommendations in South Philly:
Of course, we'd be remiss not to mention the friendly Philly cheesesteak rivalry between Pat's King of Steaks and Geno's Steaks, located across from each other near the corner of 9th and Passyunk. They've been going at it 24 hours a day since 1966 (though Pat's opened in 1930). Try them both, but know you'll eventually have to pick a side.
Philadelphia Local Attractions
There's almost too much to do in Philadelphia. Here is a very brief list of the highlights.
Find out more of TripAdvisor's recommendations for Philadelphia attractions.
Eagles gameday gear & tailgate equipment
When you're lounging outside The Linc pregame, make sure you do it comfortably. Grab a tailgate chair, put your feet up, and relax.
When tailgating in Philly, you want to make sure you blend in. We recommend grabbing some Birds gameday gear!

Wrap-Up!
If you have any other suggestions for tailgating at the Philadelphia Eagles, be sure to leave them in the comments below for other fans to see! Or if you have any questions, throw them down there too so our community can help.
To stay up to date with Tailgater Concierge, be sure to follow us on Instagram, LinkedIn and Twitter or Like us on Facebook!
For the latest news about tailgating, be sure to subscribe to our Newsletter!
Tailgate On!
Tailgater Concierge